GRACO Electric Diaphragm Pumps
Husky Electric
Double Diaphragm Pumps
Graco's line of Husky electric double diaphragm pumps combine all of the benefits of a traditional air operated diaphragm pump like self-priming, stalling under pressure, and increased diaphragm life with the benefits of an electric pump like energy cost savings, reduced pulsation, and increased pump control. Husky e-Series pumps are manufactured with your productivity in mind – providing you with one of the most reliable and efficient pumps in the market. Available for 1" or 2" connections, each diaphragm pump is tested before leaving our factories.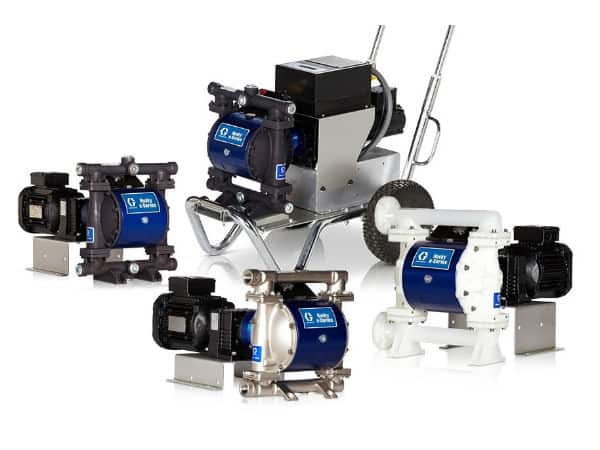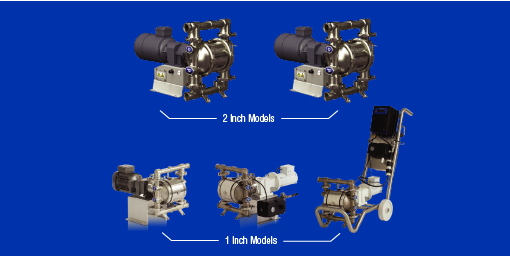 Energy Efficient and Built to Last
Up to 80% more efficient than an air operated diaphragm pump.
The first electric pump on the market that will stall under pressure.
Reduce pulsation without the addition of pulsation dampeners.
Can run dry and self-prime (no need to fill the pump to operate).
Mobile cart options available for easy and quick movement.
Our Husky e-Series pumps are ideal for applications that require low pulsation and a smooth flow. The patented air charged drive allows for the elimination or reduction of pulsation WITHOUT expensive pulsation dampeners or surge tanks.
Durable Pump Technology
Handles slurries and abrasives all without damage to the pump
Gentle on shear sensitive material
Diaphragm Pump
Runs dry
No rotating or moving fluid seals
Self-priming
Electric Drive
Reduce energy consumption and operating costs
Increase pump control
Accurately meter fluid
Fluid Section
Create the pump you need with multiple material offerings for manifolds, seats, balls, and diaphragms
Patent Pending Air Charged Drive
Increase diaphragm life without compromising your fluid
Ability to reduce pulsation on fluid outlet
Stalls under pressure without additional switches and controls
Energy efficient electric drive reduces energy consumption up to 5x compared to traditional air operated diaphragm pumps
Seal-less diaphragm pump design eliminates leaking and failures due to run-dry pump conditions