EcoQuip 2 Blast Equipment
Why EcoQuip for your Applications?
Small and portable – makes it easy to move on the deck. It can handle both horizontal and vertical surfaces
Atex approved – can be used on all vessel types (even tankers)
Environmental friendly – 92% less dust and less media consumption compared to dry blasting. Uses less water than traditional water-based wet blasting, pressure washing or hydro jetting
No health risks – No risks due to vibrations caused by hand tools
Surface preparation – perfect feathering which creates a good adhesion of the paint, compatible with almost all grit types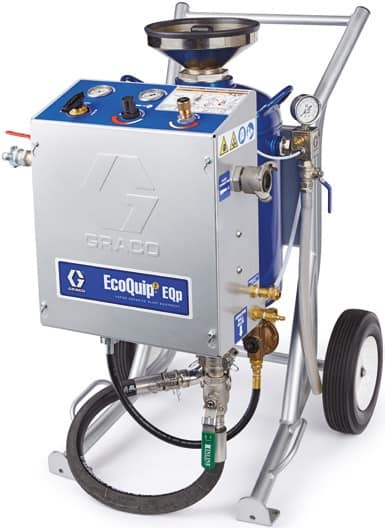 Which System is Right For You?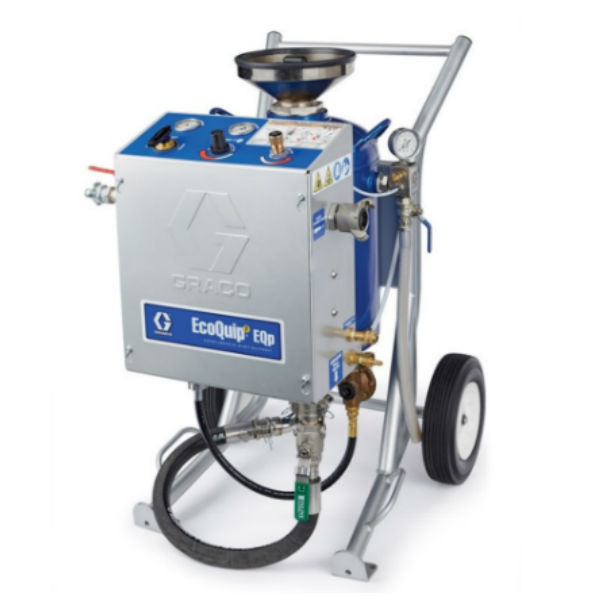 EcoQuip EQp ATEX High Flow Package
This affordable option in abrasive blasting is not only easy to use, but portable enough to take from one job to another. In addition, Graco's vapor abrasive blast equipment reduces dust by up to 92% less than traditional dry blasting and uses very little water, making containment and cleanup of debris simple and less messy than power washers.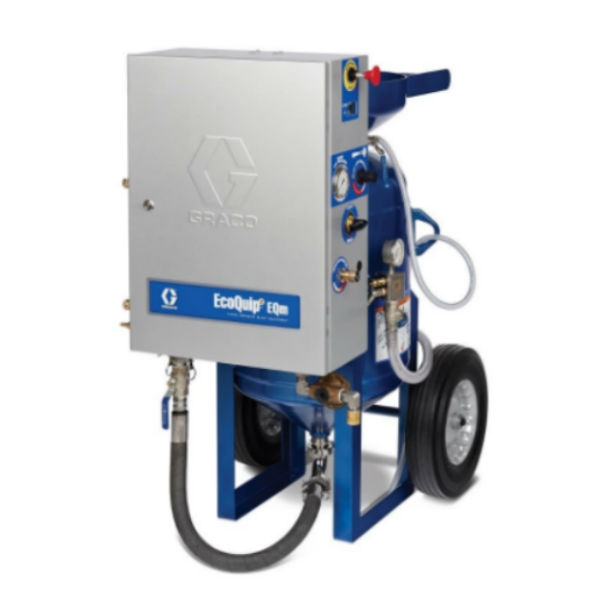 EcoQuip EQm ATEX Package
With a small footprint and built-in hand truck with over-sized wheels, the EQm is ideal for small job sites and blasting in unconventional areas. In addition, this compact blaster is capable of handling any type of project, from cleaning to surface preparation. Compact, portable blast equipment fits in the bed of a pickup truck.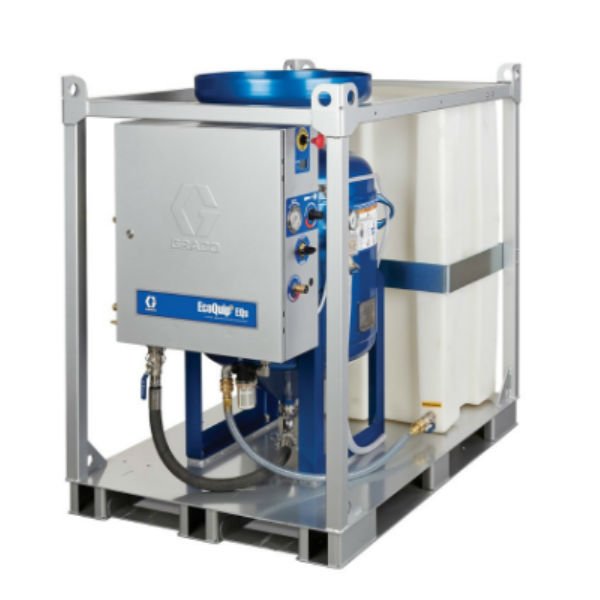 EcoQuip EQs ATEX Package
Graco's EcoQuip 2 EQs vapor blasting equipment is a standalone unit designed to tackle most typical blasting projects. The EQs is built according to tough standards and can be stacked safely in a warehouse. Truck-ready, high performance, industrial-grade abrasive blaster.
EcoQuip blasts with wet abrasive media. Abrasive media and water are combined in a blasting pot which is pressurized only by water. By encapsulating each blast particle with water, extra weight is added to the media which enlarges the impact of the blast media on the substrate. The removal and feathering of the material goes smoother and less media is being used. The water reduces splash back and traps the dust being produced.
EcoQuip 2 Makes Any Job Easier
EcoQuip 2 helps you to expand your business with different applications
EcoQuip 2 can be used for concrete repair, coating removal, steel surface preparation and graffiti removal. The versatility of EcoQuip 2 is one of the characteristics that makes this equipment so remarkable. The best part is how easy it is to switch from one application to another. EcoQuip 2 is designed to accept any media heavier than water and has a blast rating of up to 12 bar (175 PSI).
Expanding your business
With EcoQuip 2, contractors are no longer limited to just one or two types of jobs. Instead of focusing solely on steel surface preparation, that same contractor could now expand his business into the concrete repair or restoration market using the same equipment.
EcoQuip 2 Vapor Abrasive Blast Equipment
The latest innovation in abrasive blasting
Fast
50% faster start-up*
50% faster media reload process from empty*
Faster production rates than previous Graco models and equipment with similar technology
*Compared to previous EcoQuip models
Easy
Set-up EcoQuip 2 in just five simple steps
No longer need to set pot pressure relative to blast pressure
Easily adjust blast pressure and use media valve to regulate media
Reliable
Every unit is tested using a state-of-the art bench before it ships
Unparalleled customer and technical support to assist with equipment needs
Components tested to the strictest Graco standards
What is Vapor Abrasive Blasting
Vapor Abrasive blasting is similar to dry blasting, except that the blast media is moistened prior to impacting the surface and creates up to 92% less
dust.
Less Dust Means Less Containment and Clean-up
Testing conducted by a third-party agency shows that vapor abrasive blasting suppresses up to 92% of dust compared to dry blasting.
Because dust is minimised, less containment may be required and media clean-up time can be reduced. Since EcoQuip 2 uses less water than slurry or other water-based technologies, no pools of water are left behind, and there is less need to worry about toxic runoff. The end result with EcoQuip 2 is a cleaner, more effectively contained process.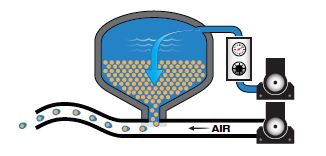 Vapor Abrasive blasting enables maximum control over the air pressure and water/abrasive mixture, allowing for blasting of a wider range of surfaces and reducing the amount of media.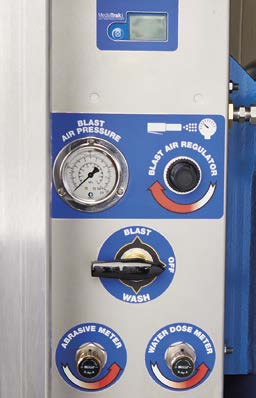 Vapor Abrasive blast systems for coating removal and surface preparation
Precision and Control
Monitoring abrasion with precision and control is an exclusive feature from Graco. EcoQuip 2 uses MediaTrak and an abrasive meter in order to quickly and easily set and monitor the abrasive consumption rate. The simple, user-friendly screen helps you set the media flow to optimal levels for the most effective blast. It tracks pump cycle rates and maintains an overall total, enabling you to schedule maintenance at regular intervals and ensures that you always receive the best performance from EcoQuip 2.